Hunt Pronghorn Antelope with Cedar Creek!
We hunt pronghorn antelope on only private property to increase our hunters chances to harvest the trophy they are looking for. Most of our ranches are located in Quay, Harding & Roosevelt counties in eastern New Mexico with the base camp being in Logan for these ranches. Our hunting properties have resident pronghorn herds with good herd numbers to give the hunter the opportunity to look at several different antelope to chose the right one for that particular hunter to harvest. Antelope harvested average from 14 in. to 15.25 inch with the chance of some over 15.5 inch depending on property. As you can see in our photo gallery, these antelope carry good mass the whole length of horn with exceptional cutters so it does not take a lot of length to get into the mid 70's. We took a 13 1/4 inch that missed the book by 7/8 of an inch!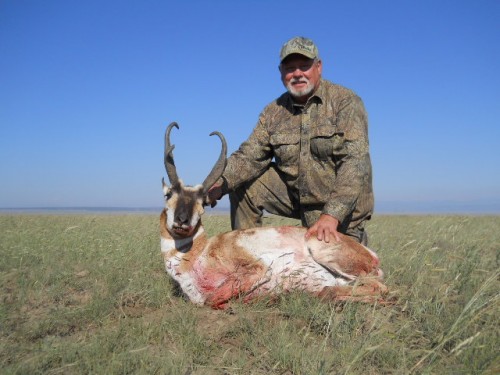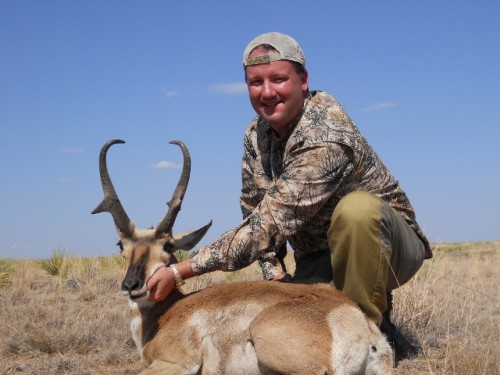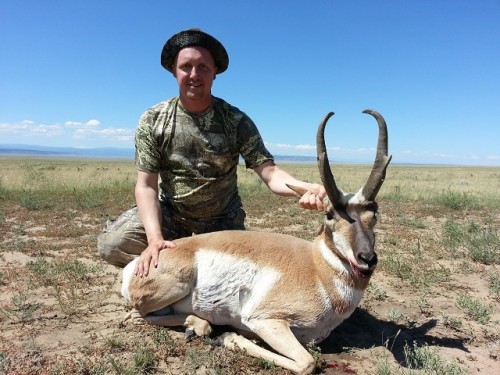 Accommodations are in a local motel with breakfast, lunch in the field & supper home cooked at base camp. The first hunt is the end of August with the 2nd being in September. If you hunt antelope with us you will not be disappointed . References available at your request. 50% deposit required at booking. Not included are out-of-state license, tax, meat processing, taxidermy, and shipping of products. Hunters can fly into Albuquerque, New Mexico, or Amarillo, Texas.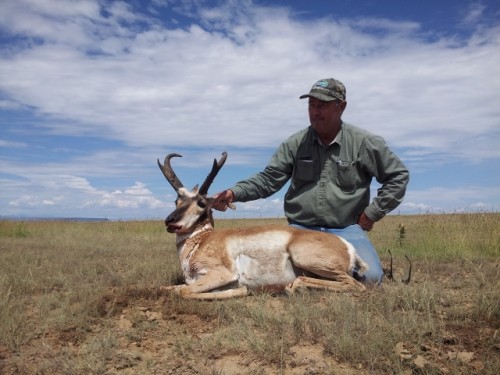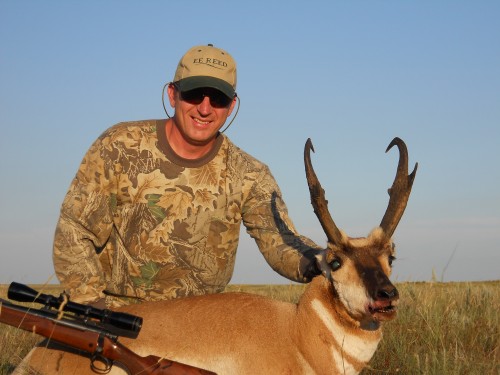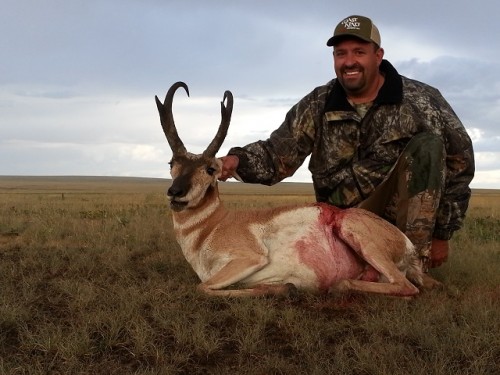 We have leased a ranch located east of I-25 between Wagon Mound and Springer New Mexico. This ranch has a record of producing High Quality Antelope that are scoring high 70's to 80's with a chance at record book animals. The accommodations will be RV's on the ranch with meals included. If you are looking for a Trophy class antelope don't hesitate to contact us for openings. This could be your hunt of a lifetime.
Antelope Hunting Prices:
Logan Antelope Hunting
Guided 2x1 $2950 Plus License and Tax
Guided 1x1 $3400 Plus License and Tax

Wagon Mound Antelope Hunting
Guided 2x1 $3850 Plus License and Tax
Guided 1x1 $4150 Plus License and Tax